SuaraSulsel.id – The Gowa Regency Government has made a Covid-19 vaccine certificate as one of the requirements for submitting a promotion. For State Civil Apparatus or ASN.
This is stated in the Circular Letter of the Regent of Gowa Adnan Purrichta Ichsan Number 800/924/BKPSDM/21. The first letter a in the Circular Letter states that one type of service that requires a Covid-19 Vaccine Certificate is the service for submitting ASN promotions.
Adnan said this was done as an effort by the Gowa Regency Government to accelerate the handling of Covid-19 in accordance with the Regulation of the Minister of Home Affairs of the Republic of Indonesia Number: 20 of 2020 concerning the Acceleration of Handling the Corona Virus. Disease-19 in the local government.
"Therefore, to prevent and minimize the spread of the Covid-19 Virus within the Gowa Regency Government, it is conveyed to all civil servants to include a Covid-19 Vaccine Certificate," Adnan wrote in his circular letter.
Read also:
To prevent Covid-19, Gowa Regency ASN is prohibited from leaving the area
In addition, this policy was also taken to encourage the acceleration of Covid-19 vaccination, as stated in the Regulation of the Minister of Health of the Republic of Indonesia Number 10 of 2021 concerning the Implementation of Vaccination in the Context of Handling Covid-19. -19 pandemics.
According to Adnan, based on the submission of the South Sulawesi Provincial Health Office, Gowa Regency entered
lowest district in the implementation of vaccination.
"This is also to increase the number of people in Gowa Regency, especially ASN who have been vaccinated, so this will also accelerate the formation of herd immunity or group immunity," he said.
Head of the Gowa Regency Personnel and Human Resources Development Agency (BKPSDM), Muh Basir said, not only promotion but all types of services at BKPSDM require vaccine certificates, such as employee transfer services.
Then the field of Employee Development and Welfare includes satya badge management services, pension file management services, and service for submitting civil servants leave.
Read also:
Alluding to ASN Performance During WFH, Batam Mayor: Work At Home, Not Sleep!
Furthermore, the Field of Employee Data and Information, covering employee card making services, Taspen Card Making services, and husband/wife Card Making services
Lastly, Human Resource Development, which includes recommendation services for study permits and study assignments, service examinations and diploma adjustments, basic education and training for civil servants/professionals, leadership training and technical/functional training.
Muh Basir hopes that ASN who have not been vaccinated will immediately follow the mass vaccination program currently being implemented by the Gowa Regency Government in all sub-districts. In addition, he asked ASN to invite other people to participate in the success of the vaccination.
"As ASN, let's be an example and inspiration for others, inviting the public to participate in vaccines. Meanwhile, ASN who are not vaccinated conditionally can get a certificate from an expert doctor in lieu of a vaccine certificate," he hoped. .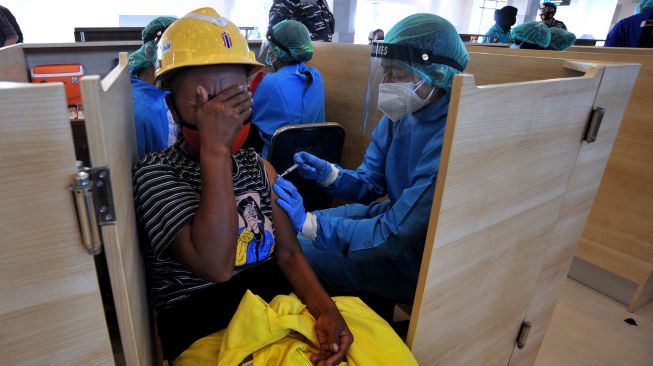 Extend Micro PPKM
The Gowa Regency Government has again extended the Implementation of Micro-Based Community Activity Restrictions (PPKM) starting Saturday, July 10, 2021.
Gowa Regent Adnan Purrichta Ichsan said the PPKM extension was carried out with several considerations. First, following up on the Instruction of the Minister of Home Affairs regarding the extension of the PPKM.
In addition, the extension of the PPKM is a measure to anticipate the surge in Covid-19 cases, especially the new variants entering Indonesia.
According to him, currently there is an increase in Covid-19 cases, especially in the Java and Bali regions which have implemented Emergency PPKM.
"We saw the development of the case in Java and Bali, so PPKM was carried out. PPKM is actually anticipating that it will not happen like in Java and Bali. Then we also anticipate new variants with much faster transmission," said Adnan.
Another consideration is that the Gowa Regency Government has extended PPKM because it is in accordance with Makassar City which is currently implementing PPKM. According to Adnan, when we have the same problem, the steps for handling it must also be the same.
"Makassar has also implemented PPKM by closing public places and can only be open until 17.00 WITA. If it doesn't adjust to Makassar, the people of Makassar will enter Gowa Regency, and the risk of Covid-19 transmission in Gowa Regency cannot be controlled," he continued.
During PPKM, the government will carry out several restrictions. For example, the operating hours of a networked mini market can only be opened until 19.00 WITA.
Meanwhile, grocery stores and the like can be open until 22.00 WITA. Likewise, restaurants or restaurants can open after 19.00 WITA, but with a note that they can only serve delivery orders and are not allowed to eat on the spot.
Meanwhile, places of worship are still open. It's just that the capacity is only 25-50 percent and still applies strict health protocols.
"Restrictions are made so that interactions are reduced, so that the risk of Covid-19 transmission can be minimized. In order not to increase the number of cases in hospitals and health workers are also not overwhelmed to handle our brothers and sisters who are sick. infected with Covid-19, that is the important point of PPKM," he explained.
Adnan hopes that all parties can be involved. So that the implementation of the Micro PPKM can run well and the Covid-19 pandemic will end soon.
"The success of this PPKM implementation is due to our cohesiveness and togetherness. It is impossible for only one party to run PPKM to succeed, everyone must be involved in implementing PPKM. The community must also be disciplined, the community must also support it. so that the implementation of this PKM can run well," he hoped.