Jakarta
–
Nikita Mirzani is disappointed with the quarantine hotel. He is known to have traveled from abroad, namely from Turkey.
The artist complained about the various services in the quarantine hotel. First, he admitted that there was a price difference when he arrived at the airport and when he arrived at the hotel, from Rp. 17 million to Rp. 22 million.
What does the Indonesian Hotel & Restaurant Association (PHRI) say?
"That's the price of a single quarantine hotel and a double price. So if double prepares food for 2 people, laundry is 5 pieces per person per day also for 2 people," said Vivi Herlambang, hotel repatriation coordinator from PHRI on detikTravel, Thursday (22/7/2021).
Furthermore, Nikita also questioned the selection of quarantine hotels. He says there is compulsion here.
However, the PHRI denied this. Vivi said that every Indonesian citizen who had just returned from abroad was free to choose an official quarantine hotel that had received permission from the government, as many as 64 places.
"There are 64 quarantine hotels, you can choose according to your ability," said Vivi.
In addition, Nikita is also worried that the food is not good and cannot be ordered online. Regarding this, the hotel which is coordinating the Covid-19 Task Force does not allow food orders from outside.
Then, Nikita also criticized the hotel for not allowing him to leave the room. In the previous detikTravel article, there is a rule that those who are quarantined cannot leave their room for more than a week because their needs have been met in the room.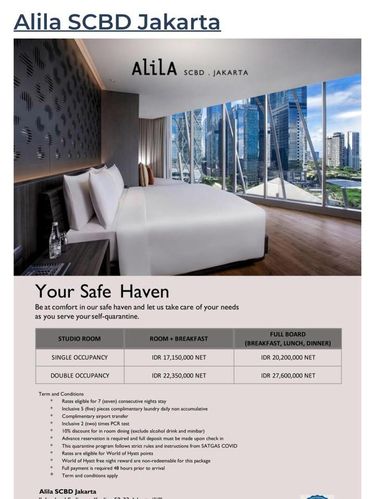 Hotel Quarantine Room Rates at Alila SCBD Jakarta (Photo: Special)
Previously, Nikita Mirzani issued his thoughts. He doesn't believe there are five-star hotels that use businesses to accommodate people who want to be quarantined.
"Indonesia is in mourning. But some people turn this sadness into a business for the benefit of their own business. It's easy for luxury hotels that house people in quarantine to close forever. So as not to trouble those who can't afford it. quarantine at the hotel wrote Nikita Mirzani on her Instagram Story.
He said that he just found out about a five-star hotel that provides quarantine services but treats quarantined people like prisoners. Nikita Mirzani said those whose PCR results were negative were treated like people who were positive for COVID-19.
"Can't breathe outside air. The food is rotten. It's an expensive hotel but I was told to wash dishes etc myself. Then the hotel room is hot. It's stuffy in there," she says.
"The price of the hotel at the airport is 17 million. Then when I was in middle school, the hotel suddenly rose to 22 million..," wrote Nikita Mirzani again annoyed.
It doesn't matter which party is in charge of the quarantine hotel. Nikita Mirzani asked the government to pay attention to the quarantine hotel issue.
"I don't know who is in charge of this quarantine, which is PRO or CON with the government, all I know as long as the government is Pak @jokowi, all the facilities are good, try it. Maybe this is one of them. The things that the government must pay attention to right now are how to deal with people who have been quarantined or not," he explained.
"Org locked up like in prison. The food is not good. There's even a stressed out toddler in the room from being locked up. And for days the towels were not changed for days. What has to be considered is the mentality of the people who are quarantined. Not quarantine but more than prison. And you treat positive and negative people with COVID like leprosy,"said Nikita Mirzani.
Watch videos"Lots of News Nikita Mirzani Suspect, Police: Case Still In Process"
[Gambas:Video 20detik]
(eg /ddn)