image.ID – The figure of a musician from Bali, Jerinx, caused a stir when he satirized several artists who were said to be endorsed by Covid-19.
The drummer for the Superman is Dead band had received criticism from various parties for his statement.
Jrx even had time to challenge several artists who were exposed to COVID-19 to meet him.
It is known that Jrx was also reported by one of the celebrities for cases of threats of violence.
Also Read: Prison Is Waiting For Jerinx SID, This Figure Reports Nora Alexandra's Husband to Polda Metro Jaya
Investigate, the case stems from the Covid-19 debate.
On the Instagram account of celebgram Adam Deni Saturday (10/7/2021), he posted a police report addressed to none other than Jrx.
"I have reported IGA or commonly called JRX.
ㅤ
Thank you @poldametrojaya for receiving my report well today.
Also read: Nora Alexandra cries seeing her mother's condition
On several considerations,
I exercise my right to report JRX.
ㅤ
Why not mediation?
I've tried but no consensus.
ㅤ
Thank you.
Greetings 2 Periods!" Adam Deni wrote in the photo caption.
Also Read: Allegations of Raffi Ahmad and Nagita Slavina of Supporting Covid-19, Jerinx SID Brings Wealth: I'm Sure They Do This For Free
Adam Deni Instagram
Adam Deni reports Jrx to the police
Previously, Jrx also had an argument with senior musician Stevi Item.
Stevi Item was angry because Jrx accused the Covid-19 that happened to Stevi's sister-in-law, Iko Uwais, as just an endorsement.
Until now, Jrx is still in a position to assume that Covid-19 is just a conspiracy.
However, recently the public was again shocked by Adam Deni's post on Instagram.
In the photo, Jrx admits that he and his family have been exposed to COVID-19, even though all this time JrX thought that Covid-19 was a conspiracy.
"Can't connect, Antngin JRX. People ask if you answer (emoji) are you embarrassed or don't you dare to admit it in public if you get a cvd? (emoji)," Adam Deni Jrx asked in the comments column.
Also Read: Lonely Woman Haters Called Nora Alexandra Angry
"Not. What's your other excuse bro? C19 is harmless for your reasons," replied Jrx.
Knowing this, Adam Deni looked happy because Jrx indirectly confirmed that he had tested positive for COVID-19.
"Oh, so you tested positive for CVD? We are the same. Has the invoice been issued yet? It was approved by both of us," quipped Adam Deni.
Also Read: Still Talking About the Pandemic After Out Of Prison To Touching Other Artists, Jerinx Often Returns To Each Other With Dr Tompi: Doctors Won't Challenge People To Death!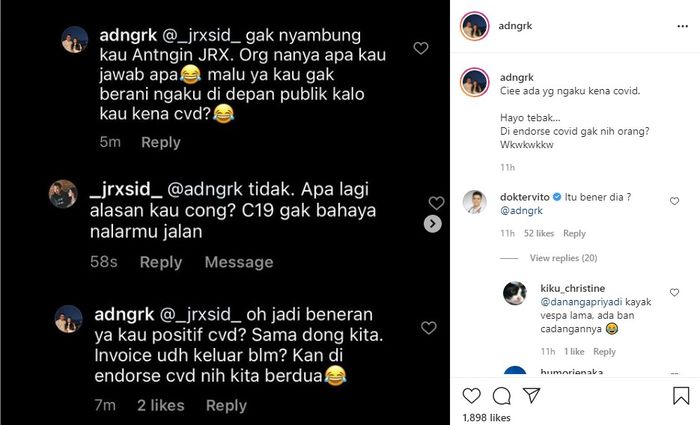 Adam Deni Instagram
Adam Deni and JRX's Instagram comment screenshot
In the next photo, Jrx said that one of his family members had Covid-19 but recovered in just 3 hours.
"@adgkr when did I not confess? Obviously I said my family in their 60s is a bit fat, he has C19, I took him to the clinic, he was treated for 3 hours, he is recovering until now," said Jrx.
"The next day I got all the symptoms that the family felt. I'm just resting at home even though the fever is great but I'm fine. I don't know what would happen if I panicked and then blindly filled the hospital because I was too scared because of the news," said Jrx.
Suddenly the post was bombarded with many comments.
Meanwhile, Adam Deni's report related to the threat case could not be continued because the complainant was undergoing self-isolation. (*)
.