KOMPAS.com – The Covid-19 pandemic situation in Indonesia is said to have entered a critical phase, due to the increasing number of infections and deaths, including among children.
However, the Chairman of the Indonesian Pediatrician Association (IDAI) Prof. Dr. dr. Aman Bhakti Pulungan SpA(K), FAAP, FRCPI (Hon) reminded. so parents don't panic.
In fact, Aman appealed to parents to increase vigilance regarding the risk of contracting Covid-19 in children and all family members at home.
"In the meantime, if (a family member) is infected (Covid-19) don't immediately be interested in being treated in a hospital. Including infected children," said Prof. Aman in a virtual meeting of the Mitigation Team of the Indonesian Doctors Association (IDI) with the Association of 5 Professional Doctors regarding the PSBB's Strict Call for Rising Covid-19 Cases in Indonesia, Sunday (27/6/2021).
Also read: Not a Hoax, 6 Facts about the Indonesian Covid-19 Pandemic Has Entered the Critical Phase
Prof. Aman explained, if a child is confirmed positive for Covid-19 and does not show symptoms or mild symptoms, it is better to immediately isolate yourself at home.
Get information, inspiration and insight in email you.
List email
Given the current hospital situation, it is not possible to treat all Covid-19 patients, said Aman, self-isolation at home is much better for Covid-19 patients without symptoms or with mild symptoms. It's not just for kids, but adults too.
Based on reports received by the Indonesian Doctors Association (IDI), there has been a buildup of patients and long queues in many Hospital Emergency Units (IGD), especially in big cities. In fact, many patients die on arrival at the ER.
Not only that, the bed occupancy rate (BOR) for isolation rooms and ICUs is almost full in hospitals and primary health facilities in many areas.
For now, treatment at the hospital is reserved for Covid-19 patients with moderate to severe symptoms who require extra care.
The IDI Mitigation Team reported that at least more than 24 districts/cities reported their isolation room occupancy was above 90 percent.
"The BOR for ICUs from various hospitals is getting closer and some even exceed 100 percent," said Dr Adib Khumaidi, SpOT, as the Chair of the PB IDI Doctor Mitigation Team on the same occasion.
So, at this time the doctor will also perform triage or the selection of patients who must be treated immediately in accordance with the applicable management procedures.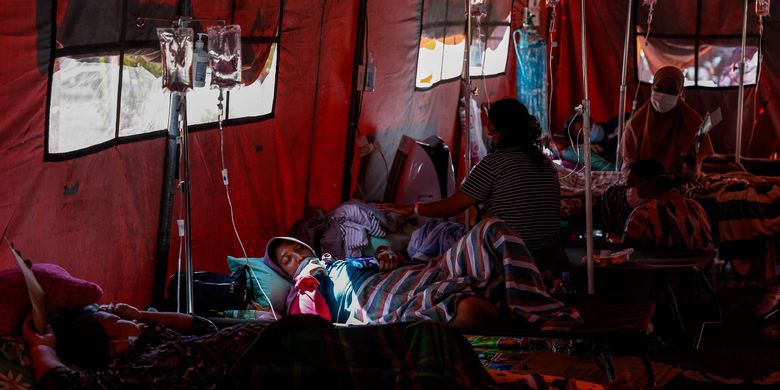 Patients occupy an emergency tent in front of the Emergency Installation (IGD) of the Chasbullah Abdulmadjid Hospital, Bekasi City, West Java, Friday (25/6/2021). The emergency tent serves as a triage room to find out whether a patient is indicated for Covid-19 or not. Currently, there are 368 Covid-19 patients being treated at the Bekasi City Hospital.
Therefore, make sure that only if the child has an infection with moderate or severe symptoms, they are taken to the hospital. This is to avoid the risk of worsening the condition that may occur during close contact with other positive adult patients.
"We don't have special facilities to care for children. So if they (children) are infected (Covid-19) but have no symptoms or are mild, they must be treated at home. But consult a doctor," he explained.
The condition of cases of Covid-19 infection in children in Indonesia
As stated by IDAI in a written statement Monday (28/6/2021), the number of cases of transmission and death due to Covid-19 infection in children in Indonesia is the highest in the world.
Based on data from covid19.go.id, positive cases of Covid-19 in Indonesian children aged 0-18 years reached 12.6 percent. This means that 1 in 8 people infected with Covid-19 are children.
Also read: Covid-19 cases in Indonesian children have increased dramatically, these are the 5 factors that cause it
Positive cases of Covid-19 children aged 1-5 years were recorded at 2.9 percent. Meanwhile, 97 percent of school-age children aged 6-18 years old.
The mortality rate for children aged 1-5 years is 0.6 percent. Likewise, the death rate due to Covid-19 infection in children aged 6-18 years is also 0.6 percent.
Therefore, Prof. Aman emphasized, to break the reciprocal transmission between adults and children, apart from strict health protocols, it is necessary to accelerate immunization for adults and children, especially teenagers with high mobility.