Jakarta
–
The current pandemic case is still not over and every day more and more people are infected with the Covid-19 virus. This Corona virus for some people turns out to have long-term effects. One of them is hair loss after recovering from COVID-19.
In some cases, those who have recovered from COVID-19 are feeling the long-term effects. For example shortness of breath, fatigue, headache, and rash appears.
And in some people there are also experiencing hair loss. One of the complaints of hair loss after recovering from Covid-19 came from actress Alyssa Milano. In a post on Twitter, the star of the television series Charmed showed how her hair fell out a lot when she brushed it.
"Thought I would show you what #Covid19 does to your hair. Please take this seriously. #WearADamnMask #LongHauler," Alyssa wrote on Twitter.
What causes hair loss after recovering from COVID-19? And how to solve it?
As quoted from Health Line, the Centers for Disease Control and Prevention (CDC) so far have not included hair loss in the list of symptoms of COVID-19. Doctors say there is strong evidence that it could be a long-term effect of Corona.
But in fact Alyssa Milano is not the only COVID-19 survivor experiencing hair loss. On the Survivor Corps Facebook group, there are numerous posts about hair loss in people who have recovered from COVID-19 and are still having that effect months later, also known as the "Distant Carrier".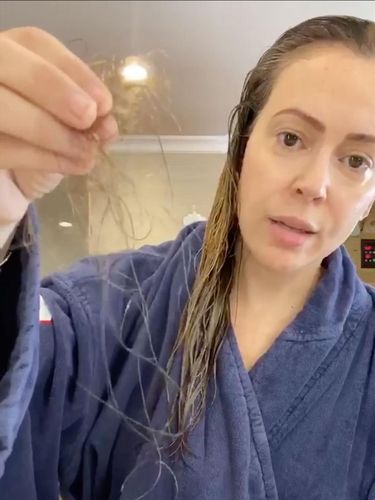 Alyssa Milano Photo: Doc. Alyssa Milano's Twitter
A survey conducted by the group's founder, Diana Berrent, revealed that more than a third of the 1,700 respondents said they experienced hair loss after recovering from COVID-19.
Dendy Engelman, a dermatologist at Manhattan Dermatology & Cosmetic Surgery, said he started seeing improvements in patients experiencing hair loss about six weeks after the home order was implemented in New York in mid-March.
"There was at least a 25 percent increase in people experiencing hair loss," says Engelman. He further said, this has not been published in the media as a symptom of Covid-19, but patients who experience hair loss are those who have suffered from Corona.
Causes of Hair Loss After Healing COVID-19
Until now, there is no concrete evidence and research that states that the Corona virus directly causes hair loss. But doctors believe that the physical and emotional stress that accompanies cases of COVID-19 can lead to a hair loss condition called telogen effluvium.
This condition is known to occur several months after a stressful event such as emotional stress, major surgery, or a high fever. This puts more of a person's hair into the telogen, or resting phase, of the hair growth cycle, eventually leading to hair loss.
"When there is a shock to the body's systems, the body goes into lock-down mode and only focuses on carrying out essential functions," says Dr. Susan Massick, a dermatologist at Ohio State University Wexner Medical Center,
And Dr Susan adds that hair growth is not included in this important function in the body. So when the body is attacked by the Corona virus, it will end up with hair loss.
When a patient presents with severe hair loss, the doctor may order blood tests to determine if there is a thyroid problem or nutritional deficiency. Both conditions can also cause hair loss.
Overcoming Hair Loss
Hair loss is actually a normal thing. But this normality has its limits. In general, a person will lose up to 100 hairs per day. However, in the case of those suffering from telogen effluvium it can cause about 300 strands to fall out daily for up to 6 months. This can cause anxiety for people who experience it.
The good news according to Dr. Massick, the condition of telogen effluvium is temporary. And the hair will eventually grow back. It may take a while for your hair to grow back to normal. Hair will grow slowly as this is not a quick treatment, it can take six months to a year.
On the other hand, when you experience hair loss after recovering from COVID-19, focus on adopting a healthy lifestyle rather than taking supplements or drugs that have no known efficacy. Finding ways to manage stress can help initiate hair regrowth, as can eating a nutrient-rich diet and avoiding smoking.
Watch videos"Kemenparekraf Provide Capital for Fashion Actors"
[Gambas:Video 20detik]
(eny/eny)