Banda Aceh, CNN Indonesia —
The Aceh Police have denied making a policy for residents who want to make a Driving Permit (SIM) must include certification vaccine.
The Head of Public Relations of the Aceh Police, Kombes Pol. Winardy emphasized that the growing issue is that vaccine certificates are a requirement to take care of various needs, such as obtaining a Driving License (SIM), Police Record Certificate (SKCK), and Vehicle Registration Certificate (STNK).
However, he emphasized that the issue was not true. In fact, they never made such a policy.
"That information is not true and we officially declare it a hoax!" Winardy said when confirmed, Sunday (20/6).
However, currently the Aceh Police are intensively implementing health protocols and inviting the entire community to participate in vaccinations that are being carried out by the government.
"Currently, the National Police is promoting vaccination with the Polres as the front line, collaborating with related elements and conducting mass vaccinations at designated points in their respective regions," he said.
Winardy appealed to the public to participate in this simultaneous vaccination for the common interest, namely being free from Covid-19.
"We urge the public to take part in mass vaccination, because vaccines are one of our efforts to break the Covid-19 chain and create herd immunity," said Winardy.
Separately, the Traffic Directorate of the South Sulawesi Police is still waiting for a decision from the Police Traffic Corps regarding the application of three SIM categories, namely SIM C, C1, and C2.
The division of the SIM category for wheeled motorcycle riders is based on Police Regulation Number 5 of 2021. Currently, it has entered the stage of socialization to the public.
Head of the South Sulawesi Regional Police Sub-Directorate AKBP Muh Yusuf Usman explained that the SIM category is divided based on the cylinder capacity or CC of the vehicle.
For the next SIM C, the former Kasatlantas Polrestabes Makassar is valid for 250 CC, while SIM C1 is for vehicle owners from 250 CC to 500 CC, and SIM C2 is valid for vehicles 500 CC and above.
"The regulation will be implemented soon and is currently still in the socialization stage. However, the categorization will be implemented soon," said AKBP Yusuf, Friday (4/6).
However, Yusuf said, his party is still waiting for technical instructions (Juknis) from the Korlantas Polri as well as supporting infrastructure for the categorization of the SIM.
"Of course this still takes time and it is hoped that people who have this type of vehicle can take care of their SIM," he said.
According to Yusuf, the point credit system that will be implemented is very interesting, because every driver who commits a violation will be recorded, starting from the light, medium and severe categories with points deducted.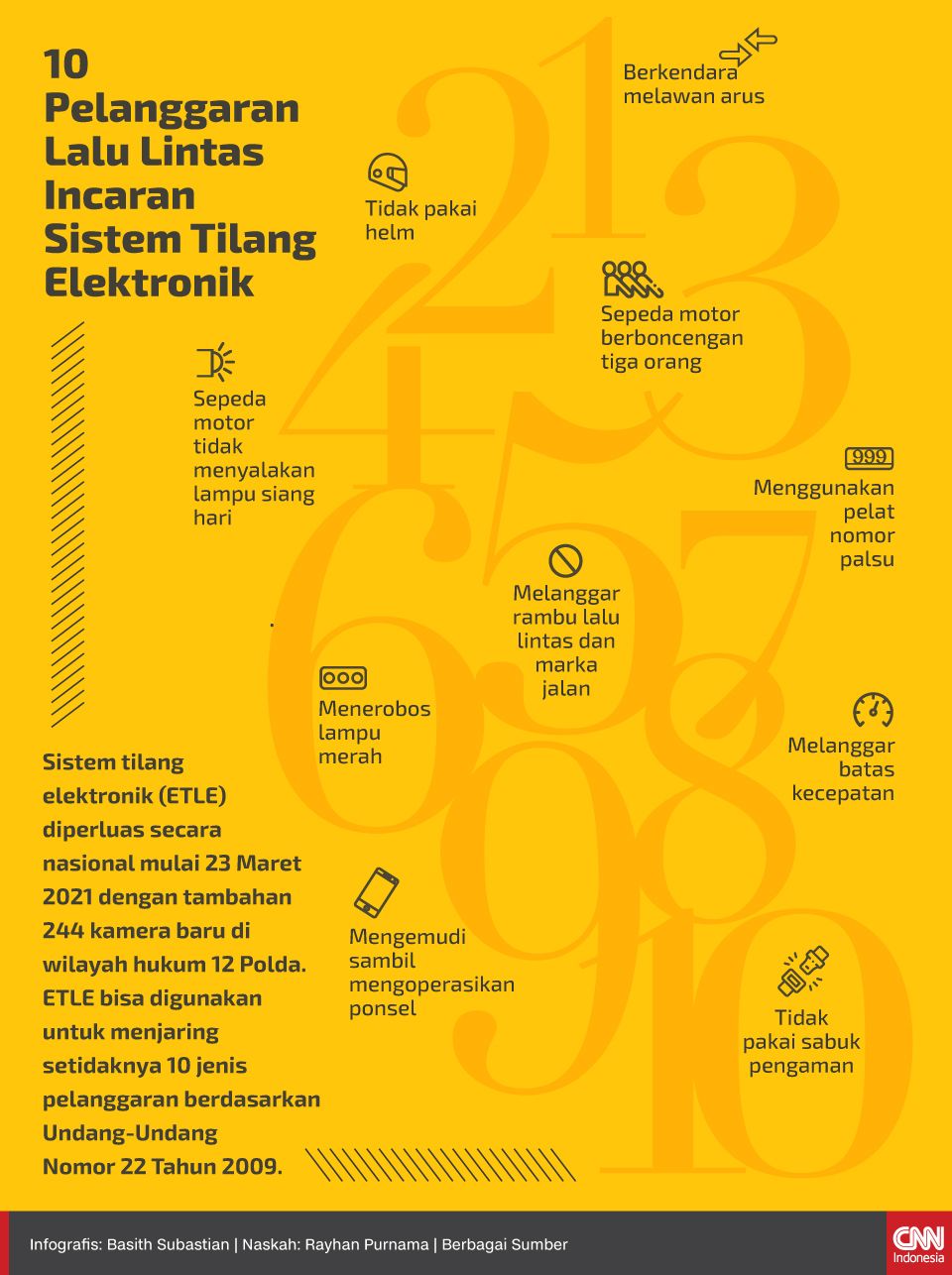 Infographic – 10 Traffic Violations Targeted by Electronic Ticketing System. (Photo: CNNIndonesia/Basith Subastian)
"Witness or—" output"The thing is, the SIM can be revoked or can't be used again if this point credit system has been implemented optimally," he explained.
If you add the community, Yusuf has an ordinary SIM C, but already has a vehicle of 250 CC and above, it is only valid for one year.
"But it can be upgraded to SIM C1. We are still waiting for technical details from the Korlantas Polri. What is clear is that this SIM categorization will be applied," he said.
(dra/mir/arh)


[Gambas:Video CNN]