Jakarta, CNN Indonesia —
Self Isolation performed by the patient Covid-19 asymptomatic or mild symptoms. In some cases, these asymptomatic Covid-19 patients may spend longer periods of self-isolation.
According to the CDC website, the length of treatment for Covid-19 patients depends on their health condition. People with weakened immunity may take longer to test negative for Covid-19.
"Everyone's immunity is different, many factors influence it, such as the age and condition of the patient. However, in general, increasing the body's resistance at home must think about the physical and mental side," said an internal medicine specialist. Adeline Pasaribu when contacted. CNNIndonesia.com, Tuesday (29/6).
Here are some things you can do to increase your immune system while undergoing self-isolation at home.
1. Relaxation
Adeline said maintaining mental health during self-isolation is no less important than maintaining physical health.
Relaxing at home can be done when Covid-19 patients are self-isolating. Avoid things that can be stressful, such as work, fake news, or scary news about Covid-19.
"Worship, doing hobbies. The point is that relaxation from the stress of life can increase endurance, "said Adeline.
2. Sunbathing
Basking in the sun can increase vitamin D levels in the body. Vitamin D in the body works as an anti-inflammatory agent and regulator of the immune system.
In Covid-19 patients, vitamin D is expected to reduce the inflammatory response to SARS-CoV-2 virus infection.
Internal medicine specialist, RA Adaninggar suggests basking in the sun which contains a lot of UVB, around 09.00-10.00 WIB.
"Sunbathing is better when there is a lot of UVB rays, around 9-10 am for 20-25 minutes," said Adaning when contacted. CNNIndonesia.com, Tuesday (29/6).
3. Breathing exercises
According to Adaning, in some cases, Covid-19 patients are not advised to exercise because it can cause shortness of breath. However, Covid-19 patients who are self-isolating can do breathing exercises.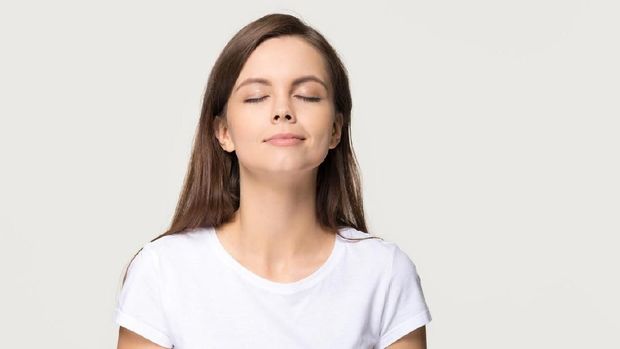 Illustration. Breathing exercises can prevent lung damage in Covid-19 patients from spreading. (Istockphoto/fizkes)
Siti Chandra Widjanantie, Medical Rehabilitation Specialist at Friendship Hospital Jakarta, said the breathing exercise was aimed at keeping lung tissue exposed to Covid-19 from spreading.
"If it can be done from the beginning of the Covid-19 infection, especially during the self-isolation period at home, then the results obtained will be better to maintain the functional ability of the lungs," Siti said in a press statement, quoted from Persahabatan Hospital.
Breathing exercises are divided into six movements. Here's a tutorial on how to do breathing exercises for Covid-19 patients.
[Gambas:Youtube]
See other things that help boost immunity during other self-isolation on the next page.
7 Things That Can Boost Your Immunity During Self-Isolation
READ NEXT PAGE